Grandmaster Mal Lomax Profile
Grandmaster Mal Lomax  (24/11/47 - 13/7/10)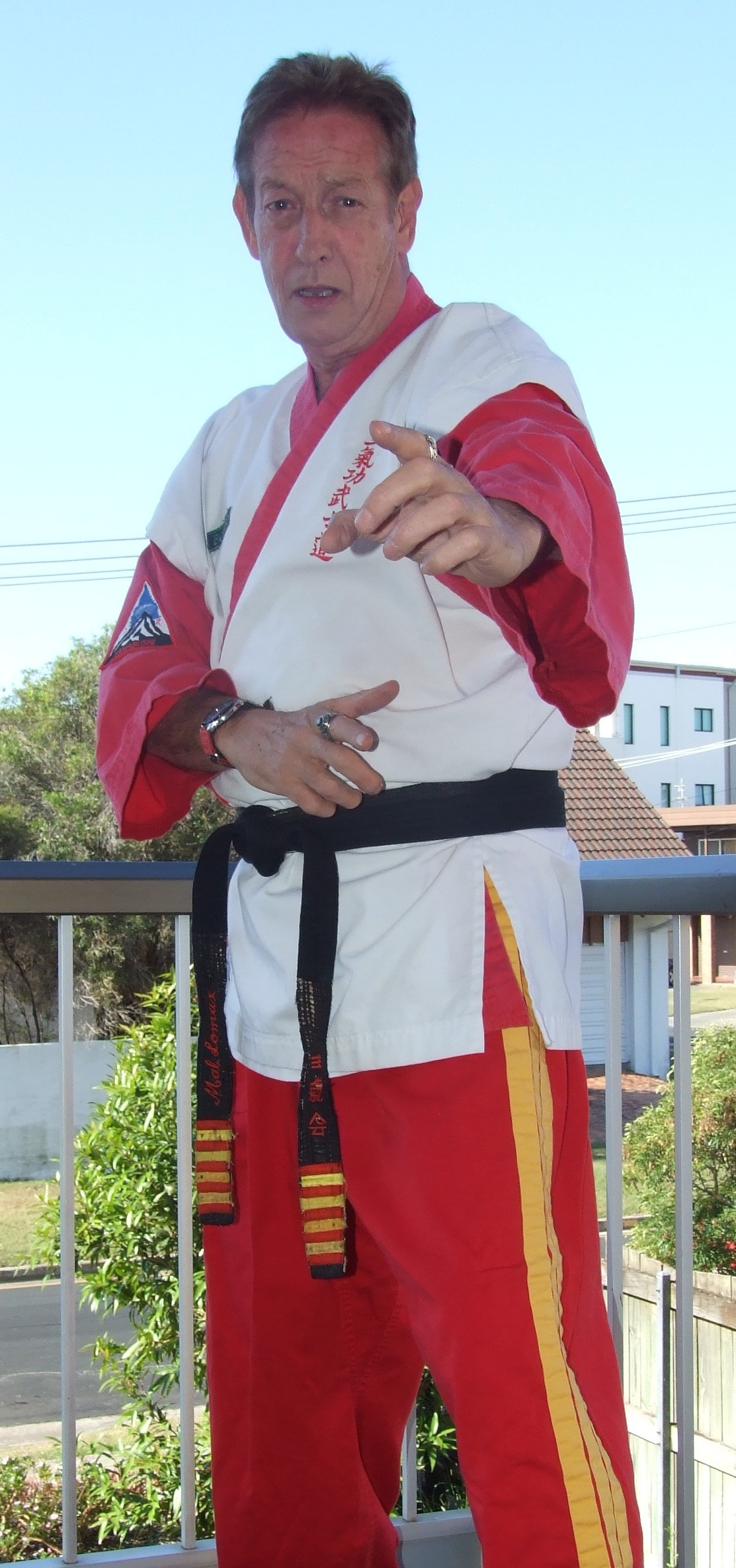 Fully Insured
Australian Kung Fu/Wu Shu member 1980-2010
National Code of Conduct compliant
Child Safety Policy compliant
Risk Management Policy compliant
World Karate Union Hall of Fame Inductee 1996
Australasian Martial Arts Hall of Fame Inductee 1996
International Association of Martial Arts Hall of Fame Inductee 2003
International Sports Karate Association Hall of Fame Inductee 2006
San Chi Kai
Late Grandmaster Mal Lomax (Soke, black belt 10th degree) has studied many different systems (Judo first degree, Jujitsu second degree, Arnis second degree, Taekwondo first degree, Tang Soo Do first degree, Goju-Kai first degree, Kempo sixth degree, Seishin Tetsujin Ryu first degree, Kobujutsu fourth degree, Senshi Ryu Do fifth degree, Ma Chung Lama Kung Fu Pacific Rim Head Instructor, Special Air Service Regiment-U.K., 8/9 Royal Australian Regiment, Bodyguard/Security to Stars and written many film scripts with acting roles) combining them into a unique system. It is designed to meet the self-defense needs of all todays' modern society, with emphasis on real life/street use. It is a freestyle, which allows the each student to adapt to whatever method best suits them. San Chi Kai is suitable for all ages, genders & fitness levels. This allows each student to learn/exercise at their own pace.
Life Tribute to Soke Mal Lomax-Grandmaster, Mentor & Friend
Mal Lomax was born on 24/11/47 in England to Stan & Elizabeth Lomax.  Apprentice chef for 18 months after school, but decided to follow his family heritage into the military, the highlight was being "badged" into 22 Special Air Service-U.K, where he served in Aden.  Mal later emigrated to Australia with his parents, brothers (Stewart & Ken) & sister Maggie.  Mals' ancestry can be traced back to Vikings.  First job in Australia was as a truck mechanic after completing HSC at RMIT Melbourne in 1966. 
Mal missed the military life & joined the Australian Army in 1968, served in Vietnam primarily with 9 Royal Australian Regiment & various other military units, trained in hwrang do with the Korean Tiger Battalion which developed his interest in martial arts.  After returning from war, Mal was given security work with Stewart Lomax in hotels in Victoria.  Mal trained under Tino Cebrano (recognised as the father of Karate in Australia) & Stewart, grading to black belt under Tino.  Mal & Stewart trained under Bob Jones until a split had Stewart Lomax, Tony Abela & Mick Deridisi leave to form San Chi Kai-which Mal was invited to join & soon thereafter became head instructor of.  1975 Mal gained a contract playing soccer in Hong Kong where he studied several forms of kung fu, but specialising in Ma Chung Lama Pei kung fu-reaching instructor level.  San Chi Kai became renowned throughout Australia due to involvement in tournaments.  Mal worked as a bodyguard for many stars such as Gary Numan, Sir Bob Geldolff, John Travolta, John Farnham, Olivia Newton-John, Chuck Norris…just to name afew.
During the filming of Force Five, Mal participated in a martial arts demonstration with Richard Norton, Benny Urquidez, Joe Lewis, Sonny Barnes & Bong Soo Han.  Norton introduced Mal to Chuck Norris where Mal became a stunt-double, bodyguard & training partner on many films with Norris.  Mal was made an honourary member of the Sioux Indians by the Ward Brothers in 1981.  Mal has written scripts for Tokyo Triangle 1 & 2, The Clans, Bluey, Phantom Soldiers, The Guardians, Weekend Warriors, Red Centre, Willie, & Midnight Girl.  Film credits are Sullivans, Carsons Law, Anzacs, Silent rage, Eye For An Eye, Force Five, Lone Wolf McQuade, Forced Vengeance, Black Boomerang, Pharlap, Death Of A Soldier, Missing In Action 1 & 2, Midnight Girl & various TV commercials.  Mal trained in & reached the following ranks in the following styles:- Arnis 2nd degree, Goju Kai Karate 1st degree, Japanese Sword 2nd degree, Judo 1st degree, Jujitsu 2nd degree, Kempo 6th degree, Kobujutsu 4th degree, Ma Chung Lama Pei Kung Fu Pacific Rim Head Instructor/Red Sash, Seishin Tetsujin Ryu Karate 1st degree, Taekwondo 1st degree, Tang Soo Bo 1st degree, Senshi Ryu Do 5th degree & San Chi Kai freestyle karate 10th degree Grandmaster.  Mal has worked as an IBM computer programmer & with Stewart in his painting business-retiring with TPI military pension & mentoring/teaching martial arts as his passion.
Mal has been actively involved in charity organisations in Victoria, Tasmania & Queensland.  Mal was commissioned into the Queensland Naval Brigade Officer Corps in 1998 & served there until 2003.  Vice president for the Runaway Bay RSL.  Mal was inducted into the Australasian Martial Arts Hall of Fame (AMAHOF) & World Karate Union Hall of Fame (WKU) in 1996 (where he served as board member for many years), International Association of Martial Arts Hall of Fame (under Grandmaster Gary Alexander) in 2003 & International Sports karate Association Hall of Fame in 2006.  Grandmaster Mal Lomax based his teaching on triangles where each of the three points was a teaching area: San Chi Kai freestyle karate, Ma Chung Lama Pei kung fu, & Unarmed Combat.  San Chi Kai has six clans primarily based on animal techniques from Panther, Tiger, Cobra, Lion, Dragon, Puma-with some techniques from Bear & Crane.  I first met Mal Lomax (then Shihan) in 1984 while training under Maggie Phillips until 1991, he was sixth degree going onto seventh in karate & red sash in kung fu.  From 1992 until 2009 I trained under Kaicho Mal, he was graded to eighth degree through the WKU in 1996, in 2005 he graded to ninth degree through AMAHOF, graded to & recognised as Grandmaster/Soke tenth degree in 2008 from the USA.    I trained with (fortnightly) & taught weekly on behalf of the Grandmaster regularly, often visiting him at home on weekends socially while he was living in Queensland (until December 2009).  Grandmaster Mal Lomax unexpectly suffered a severe heart-attack on 13/7/10 and is mourned by many.  I honour Grandmaster Mal Lomax legacy by teaching his system to others as he asked me to do.